Lent in Plain Sight: A Devotion Through Ten Objects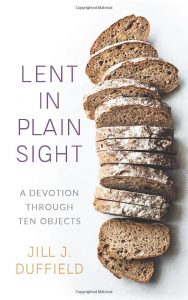 Due to Pastor Mikes installation worship,
the Lent in Plain Sight Devotional study will not meet this Sunday, March 26, 2023.
Join us in the Family Center for worship at 4:00 pm. Refreshments to follow.
Join our Lenten Bible study!
We will be studying and discussing Lent in Plain Sight by Jill Duffield, exploring how God is often at work through ordinary people, objects, and grace.
Pastor Mike will be leading our study and facilitating our group discussions. Meeting on Sundays, starting February 26, at 4:00 pm, and continuing throughout the season of Lent, we will meet in the Heritage Hall.  Books are available in the Narthex and the Welcome Center outside the Family Center. Suggested donations for the book will be $10.